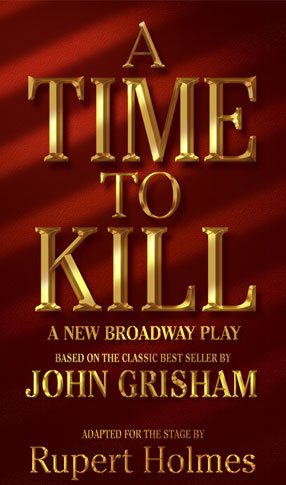 A Time To Kill
Preview Date: September 28, 2013 Opening Date: October 20, 2013
John Grisham's stunning first novel comes to the stage in this world premiere adaptation by Tony Award® winner Rupert Holmes.
The greatest courtroom drama of a generation is now the theatrical event of the season.

A TIME TO KILL brings you to a small, racially-divided Mississippi town, where a young black girl has just been attacked. When her father takes the law into his own hands, an ambitious white lawyer decides to take on the case with the odds stacked against them.

Dangerously intense and emotionally charged, A TIME TO KILL awaits your verdict this October when it arrives on Broadway at the John Golden Theatre. Don't miss your chance to witness this stunning adaptation of the best-selling thriller live on stage in a brand new production directed by Ethan McSweeny.
'
» Title: A Time To Kill
» John Golden Theatre
252 West 45th Street (Between Broadway and 8th Avenue)
» Based on the Book by: John Grisham
» Book adapted by: Rupert Holmes
» Directed By: Ethan McSweeny
» Website
Dates
Preview Date: September 28, 2013
Opening Date: October 20, 2013
Closing Date: November 17, 2013