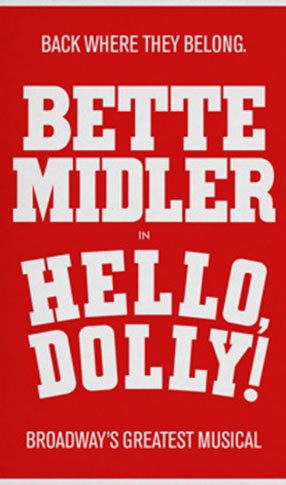 Hello, Dolly!
Preview Date: March 15, 2017 Opening Date: April 20, 2017
Back where they belong. Bette Midler. Hello, Dolly!
Michael Stewart's (book) and Jerry Herman's (music and lyrics) masterpiece, Hello, Dolly!, returns to Broadway starring none other than Bette Midler. Directed by four-time Tony Award® winner Jerry Zaks, Hello, Dolly! will begin performances at Broadway's Shubert Theatre (225 West 44th Street) on March 15, 2017. This production, the first new production of Hello, Dolly! to appear on Broadway since it opened more than fifty years ago, will pay tribute to the original work of legendary director/choreographer Gower Champion, which has been hailed both then and now as one of the greatest stagings in musical theater history.
'
Dates
Preview Date: March 15, 2017
Opening Date: April 20, 2017