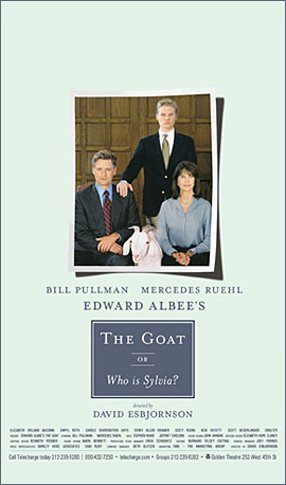 The Goat, or Who is Sylvia?
Awards: Tony Award: Play , Drama Desk Award: Play
Preview Date: February 16, 2002 Opening Date: March 10, 2002
The story is a simple, though unusual, one: Martin, a successful and famous architect lives in domestic harmony with his wife Stevie and their gay son Billy.
Then one day Martin falls in love with Sylvia, who happens to be a goat.
'
Albee's perversely funny sendup of a standard mid-life crisis drama. - Variety
» Title: The Goat, or Who is Sylvia?
» John Golden Theatre
252 West 45th Street (Between Broadway and 8th Avenue)
» Book by: Edward Albee
» Directed By: David Esbjornson
» Scenic: John Arnone
» Costume: Elizabeth Hope Clancy
» Lighting: Kenneth Posner
» Sound: Mark Bennett
» Stage Manager: Erica Schwartz
Accolades
Drama Desk Award: Play
Tony Award: Play
Cast
Original Cast: Bill Pullman, Mercedes Ruehl, Jeffrey Carlson, Stephen Rowe
Subsequent Cast: Stephen Rowe, Todd Swenson, Bill Irwin, Sally Field
Dates
Preview Date: February 16, 2002
Opening Date: March 10, 2002
Closing Date: December 15, 2002