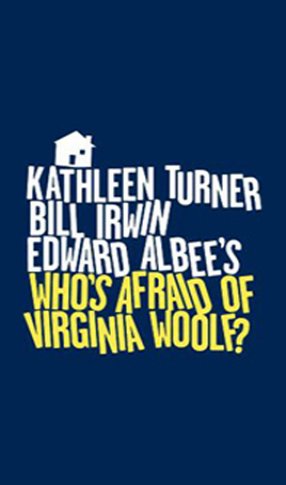 Who's Afraid of Virginia Woolf?
Awards: Tony Award: Actor
Preview Date: March 12, 2005 Opening Date: March 20, 2005
George, a professor at a small college, and his wife, Martha, have just returned home, drunk from a Saturday night party.
Martha announces, amidst general profanity, that she has invited a young couple—an opportunistic new professor at the college and his shatteringly naïve new bride—to stop by for a nightcap. When they arrive the charade begins.
'
Theatergoers who attend this revealingly acted new production, directed by Anthony Page, are destined to leave the Longacre feeling like winners, shaken but stirred by the satisfaction that comes from witnessing one helluva fight. - NY Times
» Title: Who's Afraid of Virginia Woolf?
» Longacre Theatre
220 W 48th Street
» Book by: Edward Albee
» Directed By: Anthony Page
» Scenic: John Lee Beatty
» Costume: Jane Greenwood
» Lighting: Peter Kaczorowski
» Sound: Mark Bennett
» Stage Manager: Susie Cordon
Cast
Original Cast: Bill Irwin, Kathleen Turner, Mireille Enos, David Harbour
Dates
Preview Date: March 12, 2005
Opening Date: March 20, 2005
Closing Date: September 4, 2005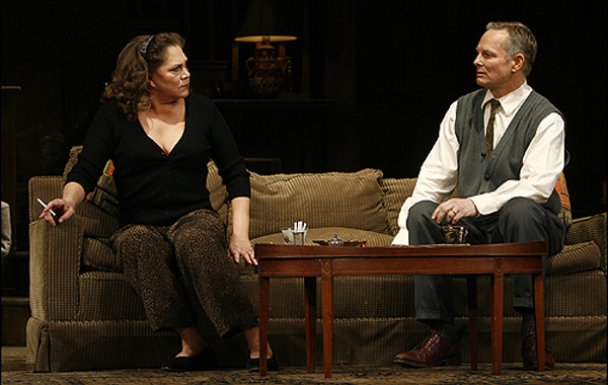 Kathleen Turner and Bill Erwin in "Who's Afraid of Virginia Woolf?" - Photo by Carol Rosegg