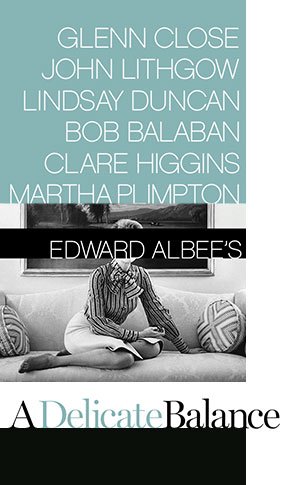 A Delicate Balance
Preview Date: October 20, 2014 Opening Date: November 20, 2014
A DELICATE BALANCE, Edward Albee's Pulitzer Prize and Tony®-winning masterwork returns to Broadway with an extraordinary cast.
In A DELICATE BALANCE, Agnes (Glenn Close) and Tobias (John Lithgow), a long-married couple, must maintain their equilibrium as over the course of a weekend they welcome home their 36-year-old daughter (Martha Plimpton) after the collapse of her fourth marriage, and give shelter to their best friends (Bob Balaban and Clare Higgins), all the while tolerating Agnes' alcoholic sister Claire (Lindsay Duncan).

The Daily News calls A DELICATE BALANCE "a beautiful play – easily Albee's best and most mature, filled with humor and compassion and touched with poetry." It "proves that old-fashioned stage virtues – originality of voice, depth of feeling, richness of language – can still provide a thrill" (TIME Magazine). "If you really care about serious theatre, brilliant theatre, great acting, and great playwriting, this is the only play to see on Broadway" (New York Post).
'
» Title: A Delicate Balance
» John Golden Theatre
252 West 45th Street (Between Broadway and 8th Avenue)
» Written by: Edward Albee
» Directed By: Pam Mackinnon
» Website
Cast
Original Cast: Glenn Close, John Lithgow, Lindsay Duncan, Bob Balaban, Clare Higgins, Martha Plimpton
Dates
Preview Date: October 20, 2014
Opening Date: November 20, 2014