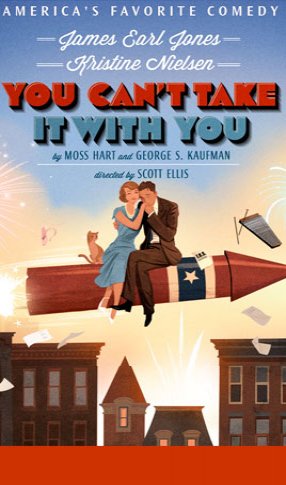 You Can't Take It With You
Preview Date: August 26, 2014 Opening Date: September 30, 2014
Family can do crazy things to people. And the Sycamore family is a little crazy to begin with.
Come join 2-time Tony Award® winner James Earl Jones as the head of the wackiest household to ever hit Broadway in Kaufman and Hart's Pulitzer Prize-winning classic YOU CAN'T TAKE IT WITH YOU.
He plays wily Grandpa Vanderhof, leader of a happily eccentric gang of snake collectors, cunning revolutionaries, ballet dancers and skyrocket makers. But when the youngest daughter brings her fiancé and his buttoned-up parents over for dinner, that's when the real fireworks start to fly.
Directed by six-time Tony Award® nominee Scott Ellis (The Mystery of Edwin Drood, She Loves Me, Curtains) and featuring original music from Tony Award® winner Jason Robert Brown (The Bridges of Madison County, The Last 5 Years, Parade).
'
» Title: You Can't Take It With You
» Longacre Theatre
220 W 48th Street
» Produced by: Daryl Roth
» By: Moss Hart & George S. Kaufman
» Featuring Original Music by: Jason Robert Brown
» Directed By: Scott Ellis
» Website
Cast
Original Cast: James Earl Jones, Kristine Nielsen, Rose Byrne, Annaleigh Ashford, Mark Linn-Baker, Crystal A. Dickinson, Julie Halston, Reg Rogers, Elizabeth Ashley, Byron Jennings, Marc Damon Johnson, Patrick Kerr
Dates
Preview Date: August 26, 2014
Opening Date: September 30, 2014