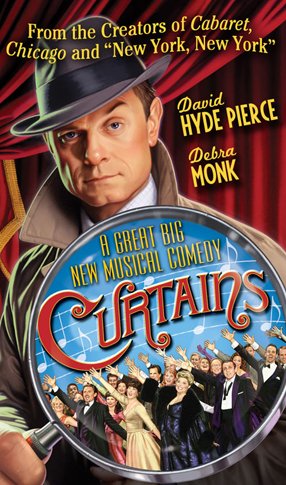 Curtains
Awards: Drama Desk Award: Outstanding Featured Actress in a Musical 2007 , Drama Desk Award: Outstanding Book of a Musical 2007 , Tony Award®: Best Actor in a Musical 2007
Preview Date: February 27, 2007 Opening Date: March 22, 2007
Backstage at Boston's Colonial Theatre, a new musical could become a Broadway smash, were it not for the presence of its talent-free leading lady.
When the hapless star dies on opening night during her curtain call, Lieutenant Frank Cioffi arrives on the scene to conduct an investigation. But the lure of the theatre proves irresistible, and Cioffi he finds himself just as drawn toward making the show a hit, as he is in solving the murder.
'
A talent-packed production -- a top-of-the-line cast. A worthy tribute to the long and rich partnership of Kander and Ebb, one of the toughest acts to follow on Broadway. - NY Times
» Title: Curtains
» Al Hirschfeld Theatre
302 West 45th Street
(Between 8th and 9th Avenues)
» Book by: Rupert Holmes
» Music by: John Kander
» Lyrics by: Fred Ebb
» Directed By: Scott Ellis
» Choreography by: Rob Ashford
» Scenic: Anna Louizos
» Costume: William Ivey Long
» Lighting: Peter Kaczorowski
» Sound: Brian Ronan
» Stage Manager: Beverley Randolph
Accolades
Tony Award®: Best Actor in a Musical 2007
Drama Desk Award: Outstanding Book of a Musical 2007
Drama Desk Award: Outstanding Featured Actress in a Musical 2007
Cast
Original Cast: David Hyde Pierce, Debra Monk, Karen Ziemba, Jason Danieley, Jill Paice, Edward Hibbert, John Bolton, Michael X. Martin, Michael McCormick, Noah Racey, Ernie Sabella, Megan Sikora, Nili Bassman, Kevin Bernard, Ward Billeisen, Paula Leggett Chase, Jennifer Dunne, Matt Farnsworth, Patty Goble, Mary Ann Lamb, David Loud, Brittany Marcin, Jim Newman, Joe Aaron Reid, Darcie Roberts, Christopher Spaulding
Dates
Preview Date: February 27, 2007
Opening Date: March 22, 2007
Closing Date: June 29, 2008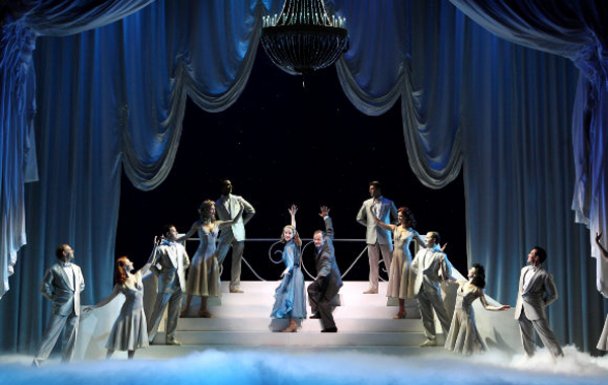 David Hyde Pierce, Jill Paice and company from "Curtains".