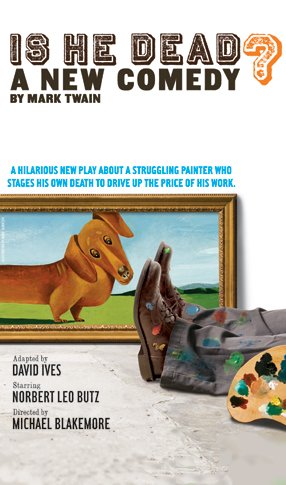 Is He Dead?
Preview Date: November 8, 2007 Opening Date: December 9, 2007
In the 1840s, the French painter Jean-Francois Millet,was the most beloved European painter in the United States.
In this fictional reimagining, a group of starving artists stage the death of their mentor in an effort to increase the value of his work.
'
It's a welcome surprise that in its Broadway premiere, director Michael Blakemore, adapter David Ives and a spirited cast led by human whoopee cushion Norbert Leo Butz have turned this trifle into a ripely enjoyable confection. - Variety
» Title: Is He Dead?
» Lyceum Theatre
149 West 45th Street(Between Broadway and 6th Avenue)
» Directed By: Michael Blakemore
» Choreography by: Pamela Remler
» Book by: Mark Twain, David Ives
» Scenic: Peter J. Davison
» Costume: Martin Pakledinaz
» Lighting: Peter Kaczorowski
» Sound: David Van Tieghem
» Stage Manager: Steven Beckler
Cast
Original Cast: Norbert Leo Butz, Michael McGrath, Jenn Gambatese, Tom Alan Robbins, Bridget Regan, Byron Jennings, John McMartin, Jeremy Bobb, Marylouise Burke, Patricia Conolly, David Pittu
Dates
Preview Date: November 8, 2007
Opening Date: December 9, 2007
Closing Date: March 9, 2008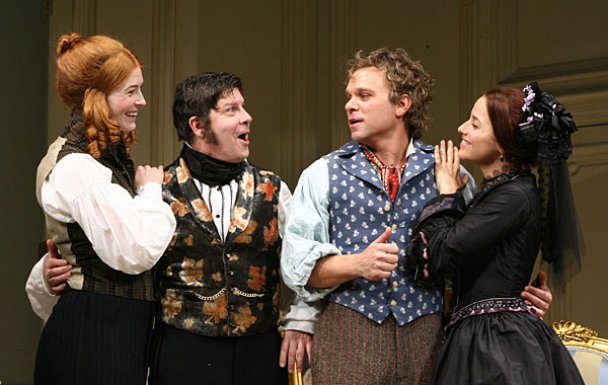 The Cast of "Is He Dead?"